Beyond Good & Evil

is a cult classic, and rightly so. The French adventure from Ubisoft Montpellier combines

Legend of Zelda

-style nonlinear gameplay with quirky characters and a stunning color palette, as well as

Pokémon Snap

-inspired photography. But it's a shadow of what could've been.

After years of working on the beloved-but-aging

Rayman

franchise, series creator Michel Ancel wanted to make something more complex. He loved the open world of

Zelda

, but hated the long

travel times of the most recent entry (at the time), The Wind Waker

. So Ancel set out to streamline this open world, where the most critical story sequences were in much more linear levels. But he wanted to "

pack a whole universe onto a single CD—mountains, planets, towns. The idea was to make the player feel like an explorer, with a sense of absolute freedom," while still telling a meaningful story. There was to be a sort of filmic rhythm to it all.

The aftermath of the September 11 attacks was to be a thematic inspiration for

Beyond Good & Evil

, without ever explicitly mentioning them. Ancel took artistic influence from the work of seminal anime director Hayao Miyazaki (

Princess Mononoke

,

Spirited Away

), and had a very distinct visual look for the game, perhaps reminiscent of another cult classic--

Ico

.

But then the publisher came in. Ubisoft wanted Beyond Good & Evil to appeal to mass audiences. The Ico-like art style was scrapped in favor of a more mainstream one, although it still maintained its unique colors. The game was shortened substantially, and the protagonist, Jade, was changed from an insecure teenage girl to a more confident woman, perhaps making it more palatable to video games' mostly-male demographic.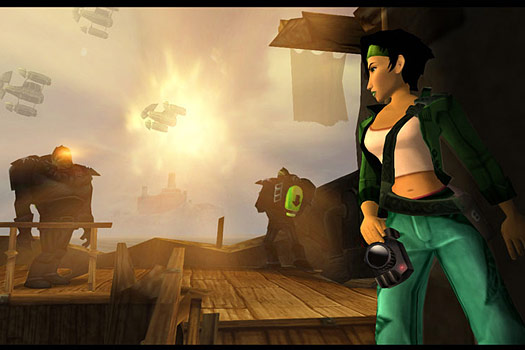 Beyond Good & Evil garnered great reviews when it was released in 2003, but it was a commercial failure. Part of it was because of the game's strange premise, but most of it was Ubisoft's lack of marketing for the title. They weren't really sure how they were meant to promote a game like this, and as a result, they didn't market it much at all. The game slowly gained a word-of-mouth cult status, though, even warranting an HD re-release on Xbox Live Arcade this past March.
Despite the initial sales flop, the finished product was a remarkable experience. The Miyazaki influence shines through in the characters, mostly a collection of anthropomorphic animals with distinct, charming personalities--none more so than Jade's partner in the game, a bumbling middle-aged pig named Pey'j. Jade remains one of the gaming medium's strongest female protagonists, not sexualized or one-dimensional like most women in video games today. Beyond Good & Evil's soundtrack is daring, too--it incorporates music from all over the world, from a racing song in Spanish to a bar tune with Bulgarian lyrics.
But one can't help but envision what could've been. The photography element is still fun, but it could've been expanded greatly. The most in-depth characterization of the game's cast is in the main city in the fictional world of Hillys; it would've been nice to see that extended to the mostly bland enemy design, and the unremarkable caves and caverns Jade explores. In addition, the "evil government" theme in the storyline isn't fully explored; you can tell Ancel wanted to put much more into this game than what we eventually got in the end product.
It's a shame, but there's light at the end of the tunnel: a sequel is in development. With the recent vindication of the title as a classic, Ubisoft is finally willing to give Ancel the money to develop a sequel. It's been on-again, off-again since 2008, and Ancel has recently stated it won't arrive until the next generation of consoles, but it WILL eventually reach store shelves.
Beyond Good & Evil is not quite the giant Michel Ancel wanted it to be, but it's still one of the greatest games of the past decade. Perhaps Beyond Good & Evil 2 will finally be what the original was meant to be, and gain the mainstream success the franchise has deserved since 2003.